Hey everyone!
This week's been...a bundle of craziness, but that isn't even unusual at this rate.
The good part is that I'm in the homestretch of
Everything And Nothing
, which means that...I have a ton of stuff to finish. Book cover, formatting, and so forth.
Friday, I took a look at the Spring 2019 course catalog for my school and, as my advisor said, it looks like there's a May 2019 college graduation in store for me. Boy, if that isn't a 'yippee' and a panic attack rolled up into one! On top of that, I completed the final assignments for induction to the online chapter of the National Society of Leadership & Success, or Sigma Alpha Pi.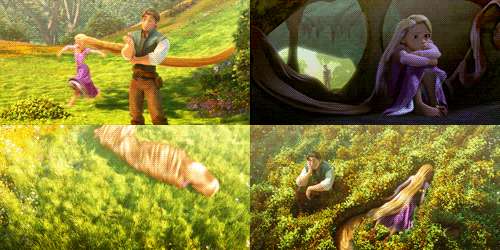 Credit: Tangled /// Gifer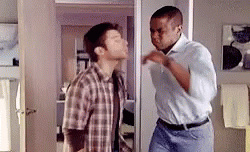 Credit: Psych /// Tenor
Thursday night, I was surprised by another one of my horses, Remy, having a case of colic, which is both one of the milder conditions a horse can get and also the most severe, life-threatening condition a horse can get. That's the thing about horses -- stomachaches can literally kill them if it's bad enough. This was just two weeks and a day after my Miniature mare, Ella, passed away suddenly, so my first thought when I found Remy sick was that Ella had had something contagious and he'd just gotten it. (AKA all of our horses would be dying.)
Sooo the vet was able to come out on an emergency call, despite not being able to do a lot for him except to give him some pain medication, verify that it was just colic, and give him some oil to, ahem, help get things moving. Thankfully, Remy did pull through and he's eating like...a horse...(I had to).
Cue this morning (Saturday) when I went to feed the horses and heard groaning coming from someone
else
'
s
stall.
Panicked.
Busted through the stall door.
The horse was groaning because she was stretching and upset that I had woken her up.
The diva.
Credit: The Avengers /// Bustle
Back onto good things, I wanted to share some fun news with you: it's still in the works, but Kellyn Roth has been putting together a group of talented editors, designers, and social media gurus for Reveries Co. with the plans to service independent authors affordably. She and Angela Watts, the manager, have put a lot of hours into setting the website up and creating the business plan themselves, so they're running a fundraiser to recoup some of their time and expenses. If you'd like to donate, click
HERE
for the GoFundMe page! You'll be hearing more about the company in forthcoming weeks.
Also, if you'd like to receive a free PDF copy of
Everything And Nothing
, make sure you're signed up for the monthly newsletter! October's will be sent out on the 15th, and copies of the book will be sent out on the day it's released. If you're not a poetry/short stories fan, I'm also looking into some exclusive sales that I can offer through Etsy during the Christmas shopping season, so if you like coupons and discounted books...click
HERE
to make sure you're on the list!
Current Projects:
Everything And Nothing,
which I've set a tentative publication date for...October 29th!
Currently Reading:
An ARC copy of
Beyond Her Calling
by Kellyn Roth,
Overcomer
by David Jeremiah, and some odds and ends that I can't remember the titles for.
Current Bible Verse:
"For by grace you have been saved through faith, and that not of yourselves; it is the gift of God, not of works, lest anyone should boast." (Ephesians 2:8-9, NKJV). This was at the bottom of the vet's receipt on Thursday, and it struck a chord with my panic-stricken, head-cold, half-delirious self.
How was your week? Anyone enjoying the start of fall?