Today, I thought I'd share about my current writing projects
and
announce a couple of new book idea that I revamped...oh, maybe a week or so ago that I'm knee-deep in already. It's been that kind of a month.
While I won't be participating in Camp NaNo July on the website this year, I will be writing a lot. (At least, that's the plan - but you all probably know how plans are.) I will, however, be involved in a couple of different writing groups geared toward accountability. My main goals for July are....
1) To finish the third draft of Keeping Cassie, which will send me into the first big round of edits. I'm aiming toward an end-of-August release date, tentatively, for that one. I woke up this morning and decided that that's probably an insane goal (to publish by the end of August), but I'm sticking with it. I know I've hardly shared anything about it, but that's just because it's part of my less-popular series (even though I love my character-babies...). But be on the lookout for a cover reveal, which should be happening pretty soon!
2) To finish the second draft of The Lady of Lanaria, which needs quite a bit of rewriting. I'm super excited about the changes I'm making, though, and I know it'll be better for it. I'm hoping for a November release, but, again, we'll see how it goes. I've also been working on cover ideas for this one, and will be sharing sometime after the Keeping Cassie cover reveal!
Now, those manuscripts probably have a total count of about 118,000 words combined. Are my goals lofty? Probably. It's nice outside, which means I want to be outside, it's storm season, which means lots of migraines for me, and my internet connection likes to play tricks, so we'll see.
But that logic doesn't usually stop the little part of my brain that piles on more writing ideas.
Did I add more goals on top of those already-lofty goals? Absolutely.
Am I super pumped about another book idea?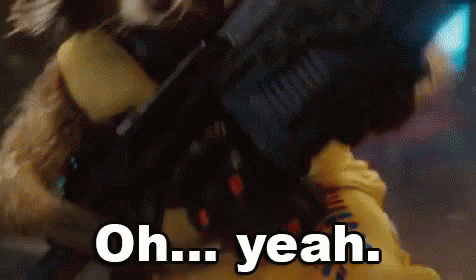 (GIF: Rocket Raccoon,
Guardians of the Galaxy Vol. 1,
2014. Tenor.)
What is my book idea, you ask? Well, I actually have two. I don't have a title for the first one, and I barely have a coherent blurb at this point, but it involves a Wyoming ranch, barrel racing, and romance, steeped in themes of healing, forgiveness, and moving forward from trauma. Ah, yes. Most of my favorite things rolled into one lovely, messy idea. I'll be sharing aesthetic collages and my inspiration for the book pretty soon, but I can give you the first names of our main characters: Emerson and Rhett. I'm also looking into the guidelines to submit it to Love Inspired Romance for publication, but who knows - regardless, it's seeing the light of day and I'm pumped! I've been mulling over this idea for several months, changing plot ideas here and there, trading out different features, but it always felt off. Cue the 12:32-A.M. partly incoherent brain that whispers, "you've gotta change it all." So that's what I'm doing!
Oh, and I'm revamping another idea that's more of a mystery/crime drama type, which I've had simmering in the back of my mind for a couple years. For the past week or so, every time I try to focus on prepping my main goals, that bugger jumps up and tries to distract me, so I suppose I should give it some attention. I just haven't decided on the amount of pain and suffering the characters should endure. We'll see...
And the title shall be Project Remember Me.
(GIF: Loki, Avengers, 2012. Gyfcat.)


Someone please stop me.
What are your writing plans for the summer? (Or reading, or just...general plans!)