Hey everyone!
Well, this week was a series of very, very weird events that actually weren't too bad.
Except for my psychology class on happiness.
That's very,
very
bad....but more on that later.
Credit: Chuck // Pinterest
Currently Reading:
The Hunger Games: Catching Fire
by Suzanne Collins;
An Orphan's Wish
by Melanie Dickerson.
This week I finished reading
White as Silence, Red as Song
by Alessandro D'Avenia and
The Thief, The Damsel, And The Dragon
by Angela R. Watts. You can find my Goodreads reviews of each if you click on the titles.
Current Projects:
Something New
-- I'm over 40k words, out of a goal of ~60k!
Current Bible Verse:
The Lord is a refuge for the oppressed, a stronghold in times of trouble (Psalm 9:9 NIV) Don't forget to pray for those in Haiti and Nicaragua for political unrest.
So this week, I was planning on taking my HP laptop up to the local repair shop because it had a major issue with the audio that completely locked it up and turned it into a very expensive paperweight. It isn't even two years old yet. The last time I had attempted a fix I'd found in the HP forums, the computer wouldn't turn on. So obviously, I left it alone for 6 months because I was irritated and didn't even want to know how much the repairs would cost. But this week, I tried to turn it on to see if I could write down some of the problems it had so I could send it to the repair guy.
Wouldn't ya know, it turned on perfectly.
And then gave me an error message about an app that didn't want to start up. As in, it beeped and
it actually beeped out loud,
it didn't just send it into a perpetual war between the two conflicting audio services that (grumble grumble) HP loaded onto it!
I have never shrieked with excitement to hear an error message pop up on any computer before. So right now it's working perfectly fine and apparently the fix I tried, the one I didn't get to test out because the computer bricked out and wouldn't turn on, worked. Inexplicably, but I'll take it!
Additionally, my "Psychology of Happiness" class started this week. It's four weeks long and I thought it would be the easy one compared to forensic pyschology -- I mean, seriously. It's an emerging field and
happiness,
guys. How simple is that?
Apparently not simple. At all. The future is bleak. Nothing is good in this world.
I mean, part of it is because of my professor being a little thrifty with the points for the discussion board (i.e., how can we relate fresh material to old material when we've
just started the class 3 days ago? There's no such thing as old material yet!)
but the book we're using,
The Happiness Hypothesis
by Jonathan Haidt, is another animal entirely.
I have taken forensic psychology, abnormal psychology, social psychology, statistics & methods for psychology, any kind of weird -psychology in general, and I not only survived the class but I thrived in it. I can't even begin to explain how odd this class is. I can understand all the scientific terminology, sure, but the theories themselves? It's like throwing a dart backwards at a door. Doesn't stick.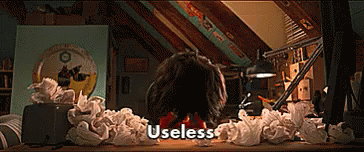 Credit: Big Hero 6 // Tenor
On the other hand, I was also offered an internship that I applied for -- the first one I've ever applied for -- and it's a virtual one that deals with editing and social media, so I'm really pumped. I'm starting to train for it on Monday and I'm so nervous...I just can't tell if it's an excited-nervous or an 'I have to talk on the phone' nervous. (And really, I
am
quite excited to get started; I just don't sound like it because it's still sinking in. The whole process from application to interview to approval happened in roughly 24 hours so I'm kind of reeling.)
Credit: Tangled // Pinterest
Annnd....drumroll, please: I'm working on developing some bullet journals to sell! I'm downloading fonts and designs and all sorts of commercial-licensed goodness as I type this, and I have a lot of fun ideas planned, including a journal made specifically for writers. More on that later!
How was your week? How's Camp NaNo going for you all?