Hey everyone! Whew. I wasn't sure I would have the time to write this up. It's been quite a week, I'll tell you that much. I'm also going to publish this a day ahead of time because I know I'll either be too busy tomorrow or too much of a nervous wreck to even write coherent sentences!
The 150th anniversary play is going to be this weekend. Finally.
And now for an accurate representation of my emotional, mental, and maybe even physical state:
Pinterest /// Disney's Tangled
I've said this before and I'll say it again: presenting your writing to a live audience as a play is both the most exhilarating and most terrifying thing ever. Even more if you're acting in the play and you hate being in front of people. Even
more
if you helped direct and you have this pit-of-your-stomach feeling that you forgot to do something really, really important.
It's always kind of bittersweet presenting plays that I've written (this is the second time I've done this). I am thankful that my mother and father will be there, of course, and running the sound system and curtains to boot. If they remember, one of my aunts & uncles might come as well. But I always really wish the vast majority of my relatives would have a desire to be there for it. Pro tip for readers: Don't be that person who just gives a ton of half-baked excuses when someone's inviting you to something that they're really excited about.

But to be honest, I'm really pumped to do this play.

Pro tip: if your family's like that -- and I know a lot of people deal with this too, hence why I'm sharing it -- look for the people around you that matter already and be satisfied with their presence.


I'm focusing on the folks who matter: the ones onstage beside me, the ones who volunteered their time and energy to helping to turn this thing into a reality. The friend that sticks closer than a brother, who keeps better track of my own script than I do (and then teases me when I get stress-induced giggles until I can't breathe). The helper that races from work to play practice to be there. The cast members who put their heart and soul into bringing my characters to life in ways I couldn't even dream of. (In hindsight, this script was seriously half-baked, guys. It took a lot of work on their end to make it what it is now!) Instead of crowd-searching to find the faces that never have and never will be there, I'll look beside me onstage at the people who have put everything into this play for the past month and a half, and then out to the audience to see all the people who have contributed in one way or another to the play. (Creative expertise, drafting, casting, working curtains, putting together slideshows, donating time, donating pictures and historical information, working the sound system and the slideshow...and on and on and on.)

I tip my hat to them all.
Reaction GIFs // Pirates of the Caribbean
Everyone's done a fabulous job on it and I really hope the audience enjoys it too.
So....here's to the play going off successfully! (And for getting this insanely busy week over with!)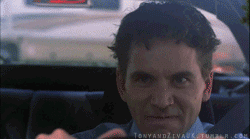 Gipher /// NCIS' Jimmy Palmer
Currently Reading: You'll laugh. Rapunzel and the Vanishing Village by Leila Howland. Yes, it is a kid's book technically, but I watch the TV show and they left it on a surprising cliffhanger, so I pre-ordered that book with the hopes that it would clarify some things.
Current Projects: ...Well, I edited three chapters in My Compass Home this week if that counts. Otherwise, my answer will be in bold - underline - italics - capitals: THE 150TH ANNIVERSARY PLAY. I still have a few things to take care of, which I'll be doing when I hop off of the Internet after I publish this....

Current Bible Verse: The Lord will fight for you; you need only be still (Exodus 14:14, NIV). Something I struggle with? Letting go of things I can't control. I know a lot of people probably feel the same way, so here's your reminder to let go and let God!

How was your week? Anyone else have a constantly-running-insane, get-me-off-this-rollercoaster mess of a week?!