My dudes, having five headaches -- three of which being migraines -- in a week and a half during finals is NOT. FUN. I do not recommend trying it at home. Or anywhere.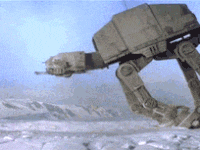 Credit: Star Wars//GIPHY
But I managed to get everything taken care of, and surprisingly, I didn't fail any of them.
At least, not
yet.
I mean, there's still time to...a few haven't been graded yet and the class grades aren't due until the 19th. In January, I'll start my last semester of college.
We also have one week and a day until the youth group at my church has our Christmas play, which has been pretty rocky so far, thanks to some unforeseen issues with scripts. We only have ONE WEEK AND A DAY LEFT.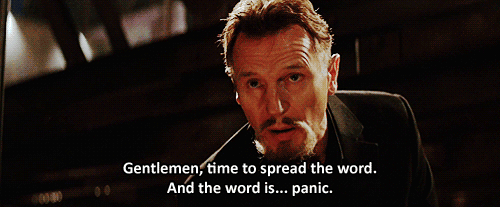 Credit: A movie I can't recall and Gifer....oops
So there's that. I always enjoy the youth plays, and I'm sure it'll pull together at the last minute, but until then -- full panic mode.
Currently Reading
:
The Butterfly and the Violin
by Kristy Cambron and
Life Without Lack
by Dallas Willard. I finished reading
The Reluctant Godfather
by Alison Tebo and I have to say it was very enjoyable. I love how Ella's love story turned out!
Current Bible Verse:
"His mercy extends to those who fear him, from generation to generation." (Luke 1:50, NIV, part of Mary's Song).
Current Projects:
A professor of mine alerted me to a literary journal that is taking submissions (one of Sigma Tau Delta's) so I'm working on some ideas for that as well as the literary journal for my college,
Tobeco
. You've probably read some of my works from
Tobeco
before; they've been included in
Everything I've Never Said
(and if you haven't, message me and I'll send you a few of them!) Wish me luck - I always overthink when I'm submitting to a journal...
I also have a couple of announcements. I have several ideas about things I can do for you guys and some new products. Since I tend to be indecisive and, overall,
awful
at choosing and eliminating my own ideas, I'd really appreciate it if you would take a look at the survey I've whipped up; feel free to answer whichever questions you'd like. Click
HERE
to take the survey. And thank you x 10000.
ALSO, my next newsletter is going out on Monday (the 17th)! I'll be announcing some small things exclusively to the subscribers then, so make sure to sign up
HERE
-- and when you do, I'll send you a complementary copy of
Everything And Nothing.
Hey: free reads for Christmas break. Why not?
What are you guys working on right now? What's one Christmas tradition you're looking forward to?