As I'm typing this, we're about 15 minutes away from the expected arrival of the end of the world. Er, I mean, snow. If you ask the masses that are going out to stock up on milk, bread, and toilet paper, though, they'll say it's the end of the world. The weather forecasts have suggested that we'll either get feet of snow or hardly any snow at all. We'll see.
On the plus side (I think), I survived the first week of college. With a full class-load this semester, I knew I'd be busy, but I'm still in the fog of "I just did 10 discussion board posts of substance before Wednesday, totaling about 4-5000 words if I calculated correctly, then had to do two replies to classmates for every one board -probably another 1000 words. And then wrote 6 poems and an essay on poems and read a lot of stories and wrote a 900 word essay on those stories and then read a lot more and then cried myself to sleep twice and then did my Spanish."
Fun, right?
I can only hope to settle into my classes as quickly as Chuck Bartowski learned kung-fu from the Intersect. (If you understood that reference, lemme know. I will love you forever and probably harass you with Chuck references and gifs constantly because that's just how I roll.)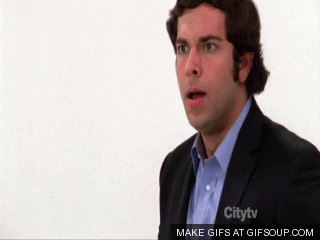 Credit: Chuck // Gifsoup.com
In case you missed it, make sure to check out my last post
HERE
, for some freebies that will be going out with the newsletter Monday (unless that huge snowstorm actually comes and I'm without power).

You may have also noticed something else: the blog looks radically different. I got an awesome template from an Etsy shop called BitestoBrand and I LOVE it. What do you guys think? I definitely don't miss the glaring pink.
Currently Reading: Goliath Must Fall by Louie Giglio, The Warrior Maiden by Melanie Dickerson
Current Projects: Guide Me Home and Keeping Cassie. Since I'll be writing over 100 poems this semester (I think) I'll probably have another book of poems and short stories for you guys. Might as well do something with all that work, right?
Current Bible Verse: "Salt is good, but if the salt has lost its flavor, how shall it be seasoned?" (Luke 14:34 NKJV) What can you do today that will ensure you don't become stagnant in your work for God?
Sometime before the end of January, I'll be posting a special blog about human trafficking. I just wrote an article about it for my college's newspaper, since it's Human Trafficking Awareness month. I think it's a very important thing that everyone needs to become aware of, and the more I researched articles for my opinion article, the angrier I got that this even happens and none of the major advocate groups speak out against it.
As far as upcoming blog posts - I'll have something for you guys on Wednesday and Friday (one post is about
Guide Me Home
and the other is about Hope Ann's
Shadowkeeper
launch!) As well as my normal Saturday post. Then the week after that, I'll have a review on Thursday for Sarah Grace Grzy's
Live Without You
, which you can preorder for Kindle now (click
HERE
. You need it.) Sometime soon, I'll also be writing a review of
Code of Valor
by Lynette Eason as well.
So I'll see you guys soon!
What are your plans for this weekend? Anyone affected by this huge snowstorm that will either bury everyone or no one at all?